A short history of Casa del Vino, Tenerife
Casa del Vino, Tenerife is part of the reddish-tinted Hacienda de San Simón, a worthy example of classic rural architecture that bears the stamp of the various stages of its history.
But let's not rush things, because like every ancestral estate worthy of the name, the one that is home to Casa del Vino, Tenerife has a story that goes back much further…
The mid-seventeenth century. The Seville businessman, Simón de Herrera Leiva, discovered that the town of El Sauzal, in Tenerife, had an industry with huge potential: wine production, which even then played an important role on the island.
Like all good entrepreneurs, he decided to expand his business: he bought land, became part of the agricultural elite, and built himself a headquarters.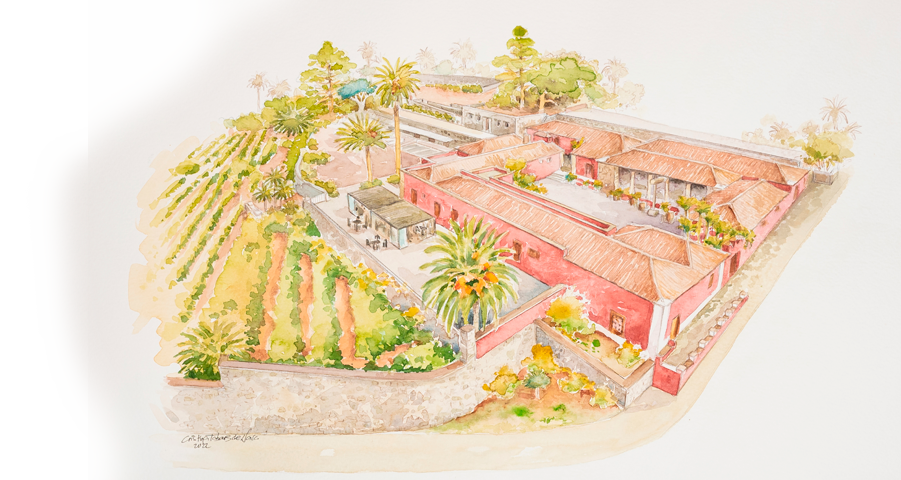 That 'centre of operations' is the Quinta de San Simón de El Sauzal, which housedthe storerooms the living quarters for the family and the Medianeros (the estate's resident workers), and the wine cellar, all built around a vast courtyard that connected the various premises.
The complex was preserved in perfect condition, thanks to its acquisition by El Sauzal Town Hall in 1989. It passed to the Tenerife Island Council in 1992.
The Island Council undertook a comprehensive restoration project with the support of the prestigious architects, Juan Carlos Díaz-Llanos La-Roche and Fernando Beautell Stroud, with superb results.
With the restoration of the Hacienda de San Simón complete, all that remained was to open it to the public in 1995 as the flagship of the island's wines, and later for other products from our island. At this stage, the operation was taken over by the Fundación Tenerife Rural.
Today, it is the unique architectural complex also known as Casa del Vino, charged with promoting and representing Tenerife's wine sector and the other traditional agricultural products which form part of the island's history.
If you'd like to know more about the development of the beautiful building that is now Casa del Vino, Tenerife, visit our museums, take a walk through our vine garden, or book a tasting session.
You can move around at your own pace as you follow the self-guided tour with our authoritative audioguide.